25th Anniversary Performance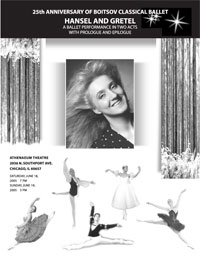 The school celebrated its 25th anniversary in 2005 by mounting a performance of "Hansel and Gretel", a full-length original ballet with choreography by Mme. Elizabeth Boitsov. Not only did the entire school have a chance to perform, from the youngest classes to the most advanced, but we were also honored to be joined by several alumni of the school who are now working as professional dancers. To have these former graduates working alongside those still in the process of becoming dancers was a fitting tribute to what Boitsov Classical Ballet School always aspired to become: a home for artists.

Visit our gallery for more pictures.