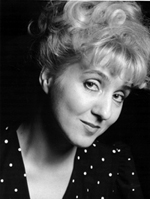 Artistic Director, Choreographer, Master Teacher, Former Principal Dancer
At the age of 3, Madame Elizabeth Boitsov started her dance career under the direction of her mother, a professional ballerina. At the age of 9, she passed a nationwide audition and was selected among 2,000 students to attend the State Ballet Schools of Poznan (Poland) and Moscow (Russia), where she would begin preparation to become a professional ballet dancer. Upon graduation from ballet school, with a Bachelors of Arts degree and the title, "Professional Dancer", she started the career of a professional ballerina at the age of 18. She distinguished herself as a professional dancer in Russia and Poland in traditional classical repertoire which included the following: "Don Quixote", "Giselle", "Les Sylphides", "Swan Lake", "Sleeping Beauty", and "The Fountain of Bakhschisarai". On an international scholarship, she advanced to the State Bolshoi Theatre University of Theatrical Arts (GITIS) in Moscow, Russia, where she earned her Master of Arts Degrees in Ballet Teaching and Choreography. Here she studied with some of the great masters of the Bolshoi Theatre, including Lepishinska, Shatin, Siemionova, Slavska, Talankina, Tarasov, Tkachenko, Yakovitska, and Zacharov. In Russia, where ballet is revered as a national treasure, artists are held to an uncompromising standard of excellence. It is from this tradition that Mme. Boitsov comes to us.
Mme. Boitsov was Master Teacher at Moscow's Bolshoi Theatre Ballet School, the State Ballet Company and School in Gdansk, Poland, and the Royal Swedish Ballet in Stockholm, Sweden. Mme. Boitsov was also a founder and the artistic director for 5 years of the State Ballet Company in Gdynia, Poland (of which there were 64 members). She has trained and prepared numerous dancers for their professional careers and many of them are principal dancers in companies throughout the world. She has choreographed her own ballet performances (including "Carmen", "Don Quixote", and "Pinocchio") and created many ballet suites for companies and TV networks in Russia, Poland, Germany, and the U.S.A.
In 1980, after choosing Chicago for her home, Mme. Boitsov founded the Boitsov Classical Ballet School, which is based on the Vaganova method of training. This is the same method that produced dancers such as Nureyev, Baryshnikov, Godunov, and Makarova. Madame Elizabeth Boitsov herself is a product of the Vaganova training technique.
In May of 1986, Mme. Boitsov became an American citizen and was named "Outstanding New American Citizen of 1985-1986" by the Citizenship Council of Metropolitan Chicago. The Council honored Mme. Boitsov for "her exceptional accomplishments as Teacher-Choreographer, for developing and promoting the appreciation of the beauty of classical ballet, and for enriching many lives in a very significant way."
In 1988, Mme. Boitsov founded the Boitsov Classical Ballet Company, an organization independent of the Boitsov Classical Ballet School, as a new resident classical ballet company of the City of Chicago. This was the culmination of her dream to establish both a school and a performing company of Russian Classical Ballet.
Since she opened her doors in 1980, Mme. Boitsov has been teaching classical ballet at Boitsov Classical Ballet School, working with students of all levels, from 3 1/2 years old to the graduating classes. She provides master classes to professional dancers and continues to choreograph and create memorable performances in the City of Chicago.